Announcements
New Editor Appointed for Journal of Payments Strategy & Systems
London, UK — 11th May 2021
Gerard Hartsink, renowned industry expert of the payment and identity industries, will become the new editor of the Journal of Payments Strategy & Systems (JPSS). He succeeds the journal's previous editor, Alec Nacamuli, who has served since 2007 and is retiring. "JPSS has become a valuable forum for the dissemination of knowledge and thinking in all aspects of the payments industry", Gerard Hartsink noted. "I look forward to leading its future efforts in publishing emerging thinking, practical advice and developments and in showcasing the research and guidance of (international) payments, cards and identity professionals with a variety of diverse and interdisciplinary backgrounds."
"The topic of payments strategy and systems remains as important as it was when JPSS was launched fourteen years ago," said the Publisher, Julie Kerry, of JPSS. "In warmly welcoming Gerard Hartsink, I am impressed by his excellence and eminence as a thinker in the field and excited by the energy and fresh ideas he will bring to JPSS. JPSS aspires to continue to better serve the payments community, and Gerard Hartsink's appointment will undoubtedly help drive that. I would also like to acknowledge the vision and expertise brought by the founding Editor, Alec Nacamuli, in its early years, developing the journal."
About Gerard Hartsink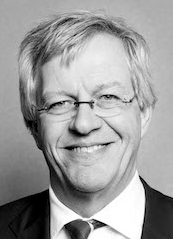 Gerard Hartsink has a broad experience in payments, cards and identity management and in the forex and securities industries. He served as the Chair of the GLEIF Board, the CLS Bank International Board, the Plenary of the European Payments Council and the RMG of ISO 20022. He participated as member of the Board of SWIFT, Maestro, EBA (Euro Banking Association), LCH Group and ECP (Electronic Commerce Platform Netherlands).
He serves as an advisor in organisations promoting e-commerce (such as the World Trade Board with the objective to connect trade, finance and technology) and e-government (member of the Forum Standaardisatie of the Dutch Government).
He supports overcoming the identity challenges of subjects and objects in the international supply chains as GLEIF ambassador, as Chair of the ICC Identity Management Working Group and as member of the ISO standardisation of TC 307 Blockchain and of ISO TC 68 Financial Industry.
As former Senior Executive Vice President of ABN AMRO Bank he has over thirty years of experience in sales, product development, regulatory affairs, information management and operations. He holds MA degrees in political economy from the University of Amsterdam and in law from the Free University in Amsterdam.
He has published extensively in the field of payments and identity including, amongst others, the following papers:
Cleland, V. and Hartsink, G. (2020) 'The value of the Legal Entity Identifier for the payments industry', Journal of Payments Strategy & Systems, Vol. 13 No. 4, pp 322-236.
Hartsink, G. (2014) 'Standardisation: A conditio sine qua non for efficient payment services', Journal of Payments Strategy & Systems, Vol. 8 No. 1, pp. 23-29.
Hartsink, G. (2019-2020) 'The value of the Legal Entity Identifier for the participants of the securities industry', Journal of Securities Operations & Custody, Vol. 12 No. 1, pp. 29-40.
Hartsink, G. (2015) 'La technologie est le meilleur garant de la gestion des risques sur les marchés financiers', Revue d'Economie Financier, Vol. 120 No. 4, pp. 143-154.
About Journal of Payments Strategy & Systems
Journal of Payments Strategy & Systems publishes peer-reviewed articles and case studies analysing best practice, regulation, emerging issues and new thinking for the payments industry. It examines major issues facing the corporate, wholesale and retail payments industry from a business, risk and operational perspective. As a peer-reviewed professional publication, the Journal is read by senior payments executives based at banks, credit card issuers, central banks, regulators, other financial institutions, service providers, vendors, consultants and treasurers, as well as by researchers and scholars working in the field.
ENDS
Contact:
Sameena Nehmat
Henry Stewart Publications London, UK